July 2017 and the grace of God took Ascension to the mountaintop!
What joy it brings to share with you the events of the last month and all that is coming in the days ahead. July gathered our CRASH high school ministry to a first-time "Mission Next Door" event, in which each day, the students and adult leaders gathered for devotions and breakfast and then headed out into the community. Day one took our high school servants to the Memorial Gardens and flower beds all around the church campus. A full day of weeding, tending, and shaping the space all the way to the ash garden. An incredible day! Later in the week, the Waukesha food pantry would get a cleanup inside and a makeover outside complete with mulched flowerbeds. Thursday took the students to one of our member's homes for a healthy weeding of flowerbeds and the tending of a relationship. In the middle of "Mission Next Door," Ascension welcomed the arrival of our brothers and sisters from El Salvador. Bienvenidos!
Thursday was full of feasting and canning and swimming at Ottawa Lake. Friday was busy with tours of partner churches in Milwaukee, community gardens, and captured rainwater projects. But, my favorite part came Friday afternoon when we gathered to bowl at Bayshore, where there are video screens and glowing neon lights. Explaining bowling in Spanish was fun to watch. Explaining in signs and gestures was even better. Watching the smiles unfold when just one pin fell down and the ball stayed out of the gutter. Now that was priceless.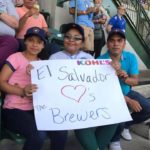 I tell you God is at work! I am grateful to our Mission Outreach Team under the leadership of Wing Leader, Shirley Wehmeier. It is wonderful to watch the church be exactly who the church should be with hospitality overwhelming and joy overflowing. Edwin and Sarah Aparicio have been incredible hosts and representatives of Ascension as they have navigated translation after translation after translation and every blessed detail of the delegation's visit. A moment of great celebration took place on Sunday, July 16 with a gathering at the home of the Wehmeiers for the delegation, church staff, church council, and partner churches. It was a glorious day. We heard updates on EVERYTHING! But most importantly – we feasted – we played volleyball – we had one-on-one conversations with Pastor Julio about healthcare, challenges of ministry in El Salvador, and especially the deep concern and request for prayer for the children and young adults of El Salvador. Please include them in your prayers – especially for the opportunity to simply and safely grow up. In my sermon from July 16, I spoke of the belief that the visit by the delegation from El Salvador was nothing short of a miracle. It is true – every word. The journey is a gift of God in every single way. Thank you for your hospitality of the delegates through the days of the visit and in worship.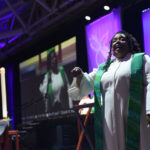 What can you learn from the stories of these mountaintop moments? So very much! In all these things, we are reminded that God goes before us. We remember that we need to hear the story of God's love as much as we tell the story of God's love. We remember that the great cloud of witnesses that surrounds our worship and our faithfulness to God has grown once again – with the great and faithful servants of CRASH serving our God and God's people; with the visit of the saints of San Jorge and Usulutan; and with the great gift of good news shared by Pastor Angela!
I give thanks to God for all of it. I give thanks to God for each of you. Gracias a Dios. Thanks be to God! See you in church.
(This article was first published in the August 2017 newsletter).