The promises of the Lord are promises that are pure, silver refined in a furnace… purified seven times. ~ Psalm 12:6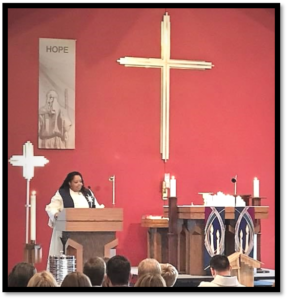 In January, we celebrate Epiphany. Epiphany commemorates when the wise kings came from afar to pay homage to the Christ child. They brought with them extravagant gifts. By following a star, they arrived at the home where the Holy Family stayed. Matthew tells us that they were "overwhelmed with joy!" And when they entered the house their knees gave way and they worshiped Jesus on bended knee because the presence of God even in the form of this toddler was too great to stand!
This time of year, early January, we think about promises. The ubiquitous new year's resolutions. Promises, promises, promises. There's nothing wrong with making New Year's resolutions; it's just that they quickly evaporate as the calendar turns to February, then March. Fortunately, unlike some of the promises that roll around this time of year, God's promises are like a treasure. The Psalmist teaches us that God's promises give us something that we can cling to even in the midst of tragedy. When all else seems bleak, God's promises are a light. Psalm 119:50 reads, "This is my comfort in my distress, that your promise gives me life."
God's word offers us unfathomable treasure because God's word is Jesus. That means that the same Christ child whom the wise men sought is the same Christ who is present in the proclamation of the Good News. So this precious priceless gift of Jesus is a treasure for all of us – no matter what we're going through. God's promises are pure and will not fail. God says, "I will turn your mourning (read your depression, your anger, your disappointment, your struggle) into joy, I will comfort you, and I will replace your sorrow with gladness…and you will be satisfied with my abundance." Isn't it good to know that we serve a God that keeps promises? Certainly God's greatest promise fulfilled is Jesus.
In this New Year, may God give us new eyes to see Christ again like a priceless treasure. Even though the Christmas season is over, there is still an awesome miracle in our midst. May we seek the star that hovers over the manger and by extension illuminates the cross. God has revealed God's self to us through Jesus. "Arise shine for your light has come, and the glory of the Lord has risen upon you!" Even though the Christmas season is over, I am reminded that now our real work begins. Now that the world around us has returned to business as usual, we are challenged to rise up and shine! Our Christmas light is beyond a season and cannot be contained or constrained by dates on a calendar. The Christ child is born unto us every day and our Epiphany is continuous. We discover Jesus in various places and we Rise and Shine.
I'd like to share a little poem written by the great theologian Dr. Howard Thurman:
The Work of Christmas
When the song of the angels is stilled,
When the star in the sky is gone,
When the kings and princes are home,
When the shepherds are back with their flock,
The work of Christmas begins:
To find the lost, to heal the broken,
To feed the hungry, to release the prisoner,
To rebuild the nations,
To bring peace among brothers,
To make music in the heart.

Sisters and brothers, the work of Christmas continues! Rise and Shine!
(This article was first published in the January 2018 Newsletter).