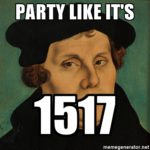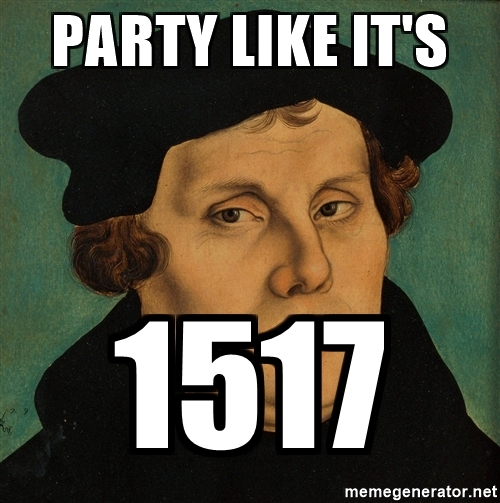 October marks the time in our church calendar when we commemorate the Reformation and this year is the 500th anniversary! This month, we are especially mindful of the great reformer, Martin Luther. People from all over the world will travel to Germany for the 500th Anniversary of the Reformation. This pilgrimage to Germany will be an inspirational, once-in-a-lifetime journey as people from various faith backgrounds trace the footsteps of our denomination's founder, Martin Luther. Doubtless, these pilgrims will enjoy a time of spiritual renewal by exploring the roots of Protestantism and reflecting upon centuries of religious history.
Luther is, arguably, one of the most influential people of all time. Certainly you are familiar with the Reformation story. On October 31, 1517, Martin Luther, who was a Roman Catholic priest and theology professor, nailed the 95 Theses to the door of the Castle Church in Wittenberg, Germany. His main call to reform was in the area of indulgences. In the medieval church, believers were told they could buy their way into heaven – quite literally. For example, if you had a relative who died and you weren't too sure if they were in heaven or stuck in purgatory – well, just give more in the offering and your loved one's soul would fly right up to heaven. It is rumored that Johann Tetzel, a German Roman Catholic friar, was fond of saying, "As soon as a coin in the coffer rings, the soul from purgatory springs."
In contrast, Martin Luther argued that St. Paul teaches us otherwise. Through Paul's words, we learn that we are all sinners. God, who is rich in mercy, offers forgiveness to us through the life, death, and resurrection of Jesus Christ. We cannot purchase it. We didn't earn it and we don't deserve it! In fact, God even initiated the little faith that we do have. God, through Jesus, did it all. So, Paul's words serve to remind us that our works will never justify us. That is why St. Paul's letter to the Romans is foundational to Lutheran theology. According to Luther, "This letter is truly the most important piece in the New Testament. It is purest Gospel. It is well worth a Christian's while not only to memorize it word for word but also to occupy himself with it daily, as though it were the daily bread of the soul." Luther encourages us, "Faith is a work of God in us, which changes us and brings us to birth anew from God. It makes us completely different people in heart, mind, senses, and all our powers, and brings the Holy Spirit with it. What a living, creative, active powerful thing is faith! It is impossible that faith ever stops doing good. Faith doesn't ask whether good works are to be done, but, before it is asked, it has done them. It is always active. Faith is a living, unshakeable confidence in God's grace; it is so certain, that someone would die a thousand times for it. This kind of trust in and knowledge of God's grace makes a person joyful, confident, and happy with regard to God and all creatures. It is as impossible to separate works from faith as burning and shining from fire."
Praise God! We are Reformation people. It is part of our spiritual DNA. As Reformation people, we rely on God's everlasting promise of extravagant grace. Trusting in God's mercy, we endeavor to embrace our reformation heritage, remembering that we have been justified by the God who reshapes, reforms, and renews!
(This post was first published in the October 2017 Newsletter).