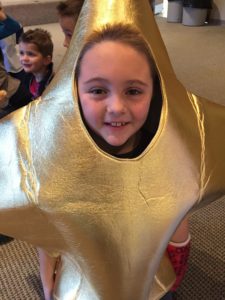 The true light, which enlightens everyone, was coming into the world. ~ John 1:9
Merry Christmas! Still in these first days of this new year we hear the words Merry Christmas as the church celebrates the season of Christmas through January 6 when the feast of Epiphany arrives and the Magi arrive at the manger.
It was an awfully full schedule: travel arrangements to Bethlehem, lost hotel reservations, a stay in a manger, a birthing room without medical insurance or assistance, and early visitors smelling of sheep. Then, just as we expect Mary and Joseph to take time to rest, the Magi knock on the door. "More visitors," shouts Joseph. Mary pulls herself together one more time and pastes on a plastic smile to greet the visitors from the East. The Magi come bearing gifts, but more importantly, they arrive with stories of a star that appeared around the time of the birth of Mary's son – a star that shines brighter than the rest and calls the Magi to follow. It is the same star that calls us to follow.
Once again, we have followed the star to the manger. Once again, we pray for the hope of God to overwhelm us. Epiphany is the season of light.  And after 2016, I am in desperate need for the light of God's promise to continue to call us and the rest of the world – first, to the manger and then to go into the world to tell the story of God's love and promise. As the star shines in the sky, may the light of Christ shine in us and through us. "The light shines in the darkness, and the darkness has not overcome it!"
Peace be with you,
Rev. Christian Marien
(This article first appeared in the January 2017 newsletter).