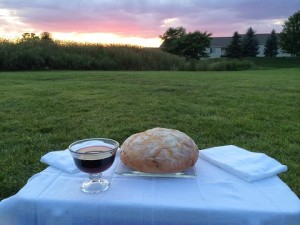 Dear People of God,
One of my favorite gifts in ministry was the worship service I attended where the following words were shared before the beginning of communion:
From all corners of the earth, Christ invites everyone who hungers to this table. So come to this table, you who have much faith and you who would like to have more. Come to this table, you who have been to this sacrament often and you who have not been for a long time. Come to this table, you who have tried to follow Jesus and you who have failed. Come to this table for Christ invites us to meet God here.
I have been grateful to hear from visitors on Sundays that someone from the congregation took the time to say hello. I was even more grateful to hear from a colleague who anonymously worshipped with us. She said, "Not only were we greeted during worship, but after worship those same people sought us out and introduced themselves by name." What joy that brings to the pastor's heart!
Our worship will always be a place of welcome. Every Sunday offers the invitation to the altar of God for bread and wine and the welcome of our God. I am grateful to God that the disciples who sit in our church remember their own welcome to God's table and, in turn, invite others to join them.
There is always room for one more at God's table. Who might you invite to join you in the days ahead?
This article was taken from the February 2017 Newsletter